Young or old, who doesn't love Disney movies?
These amazing animated productions have compelling storylines, adorable characters, tear-jerking moments, plenty of comedy and incredibly catchy songs. In short, they've crossed the generations and stood the test of time.
Even if you're the biggest Disney fan ever, each movie is trivia-laden, so we've gathered together 54 little-known Disney facts that will keep you glued to the screen next time around!
1. The translation of the Lion King's classic 'Circle of Life' is "There comes a lion, oh yes, it's a lion."
2. Rapunzel, Princess Aurora, Princess Merida, and Mulan are the only 4 Disney princesses whose parents are still alive.
3. The actors who voiced Mickey and Minnie Mouse were married in real life.
4. Christopher Daniel Barnes, who voiced Prince Eric in The Little Mermaid, was only 16 years old at the time.
5. Rapunzel and Flynn from Tangled made a cameo appearance in Frozen.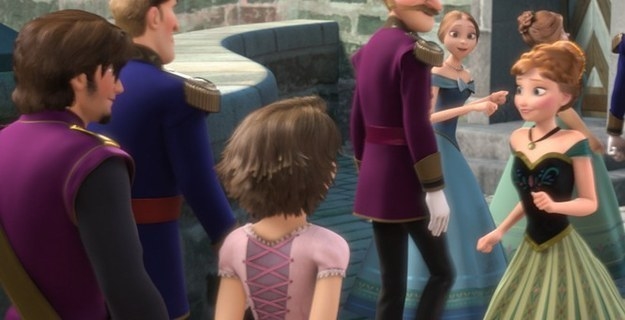 © Disney
6. Princess Aurore in Sleeping Beauty is the quietest Disney princess with only 18 lines.
7. The evil queen in Snow White is called Queen Grimhilde.
8. Hans (23) and Gaston (25) are the youngest of the Disney villains.
9. Tangled cost more to make than James Cameron's Avatar.
10. Mickey Mouse, Donald Duck and Goofy appear in The Little Mermaid.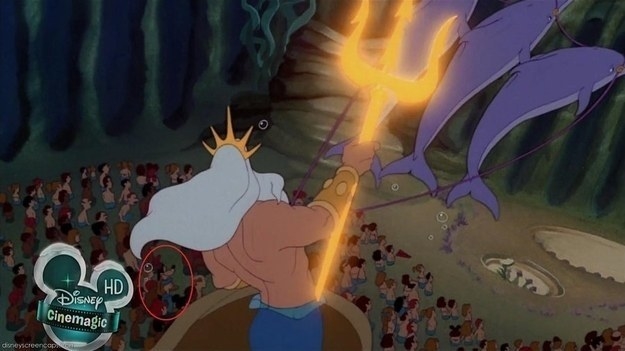 © Disney
11. Whenever you see the Disney princesses together (marketing, commercials etc), they always avoid eye contact in order to keep their individual mythologies separate.
12. Moana's costumes only used fabrics and materials available on her island.
13. Gaston from Beauty and the Beast was the the first male villain to appear in a Disney princess movie.
14. Both Mulan and Jasmin's singing voices were by Lea Salonga.
15. There was no casting for Mauï in Moana - the part went straight to Dwayne Johnson.
16. Pocahontas' first pet was a little turkey called 'Redfeather'. He was written out of the script when John Candy, the intended voice actor, died and was replaced with a raccoon called Meeko.
17. Mickey Mouse's first words were "Hot Dog" in the 1929 cartoon 'Karnival Kid'.
18. Scar from The Lion King appears as a rug in Hercules!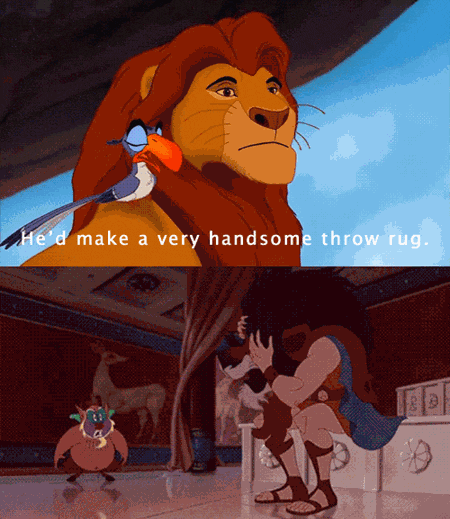 © Disney / Via pinterest.com
19. Mickey Mouse was going to be called Mortimer Mouse, but Walt Disney's wife persuaded him to change the name. Mortimer then became Mickey's rival.
20. 'Love Is An Open Door' from Frozen is the first Disney duet featuring a princess and a villain.
21. The roars in The Lion King were made by a man called Frank growling into a trash can..
22. The Atlantean language in Atlantis was created by the same person who invented Star Trek's Klingon dialect.
23. Frozen's credits state that Kristoff's opinion on boogers does not reflect Disney's view on the topic.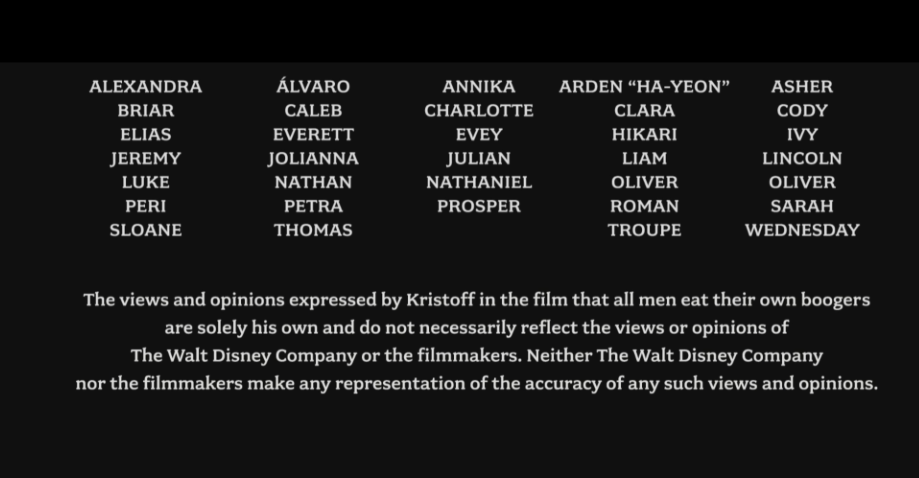 24. If you invite Mickey and Minnie Mouse to your wedding, they'll send you a postcard from one of the Disney parks along with a 'Just Married' pin.
25. Pocahontas is the only Disney princess who has a tattoo.
26. Beauty and the Beast's creators wanted a beast that the princess would realistically fall in love with and came up with a creature that had a lion's mane, a buffalo's head, a gorilla's brow, a wild boar's tusks, a bear's body, a wolf's legs and tail and human eyes.
27. The Lion King is strikingly similar to the Japanese anime Kimba The White Lion. Both have an evil uncle, subservient hyenas and are extremely loyal lions who also talk to the sky when communicating with their parents.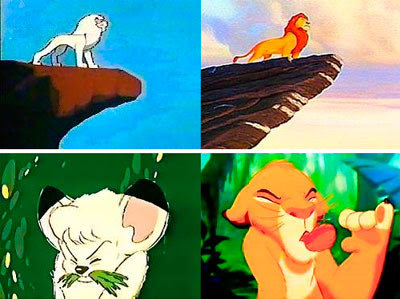 © Fuji TV / Disney / Via i.imgur.com
28. Cinderella's Prince Charming doesn't have a name. He's not even referred to as Prince Charming in the movie.
29. Tiana from The Princess and the Frog was partly modelled on Disney employee, Jaimie Milner.
30. Disney wanted to create a wine as part of the marketing campaign for Ratatouille but dropped the idea as winemakers didn't want a cartoon rat encouraging under-age drinking.
31. Walt Disney's mother died in a furnace leak at the home that her son bought for her. The producer Don Hahn believes this is why so many Disney characters are motherless and that Disney himself used his movies as a way of dealing with the guilt and grief he felt.
32. Russell from Up was largely inspired by Pixar animator Peter Sohn.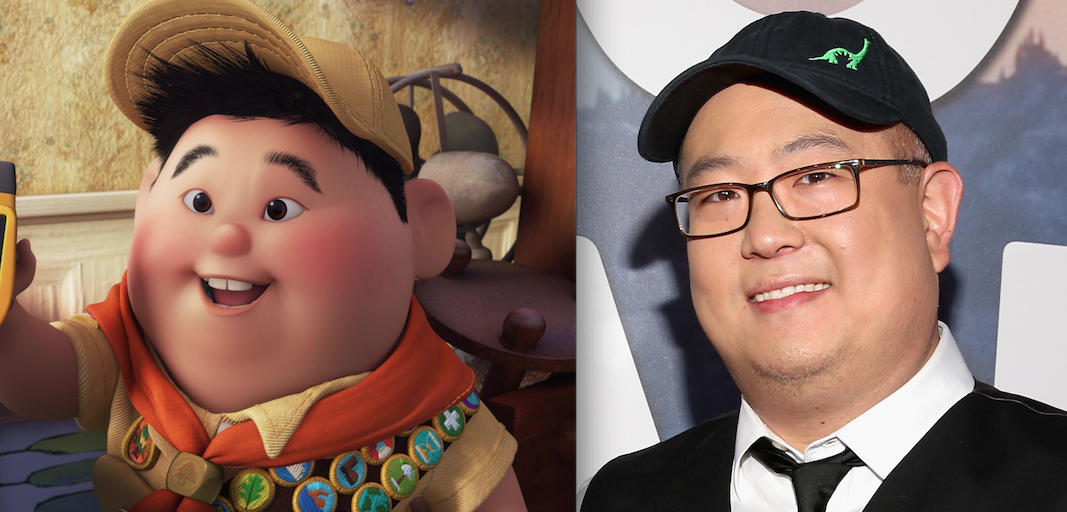 © Disney / Jesse Grant / Getty Images
33. Mary Poppins won the most Oscars, with Academy Awards for Best Actress, Best Original Music Score, Best Song, Best Visual Effects and Best Editing.
34. The vultures in The Jungle Book were orginally going to be voiced by The Beatles.
35. Robin Hood was the first Disney movie to have only animal rather than human characters.
36. Aladdin's directors gave Robin Williams a box of props to use during the recording. It took 25 takes and most of the props made it into the movie.
37. Budget restrictions are why Mickey Mouse only has four fingers on each a hand - adding a fifth would have cost too much.
38. When Walt Disney won an honorary Oscar for Snow White, he was presented with a full size Oscar alongside 7 smaller ones in honor of the dwarves.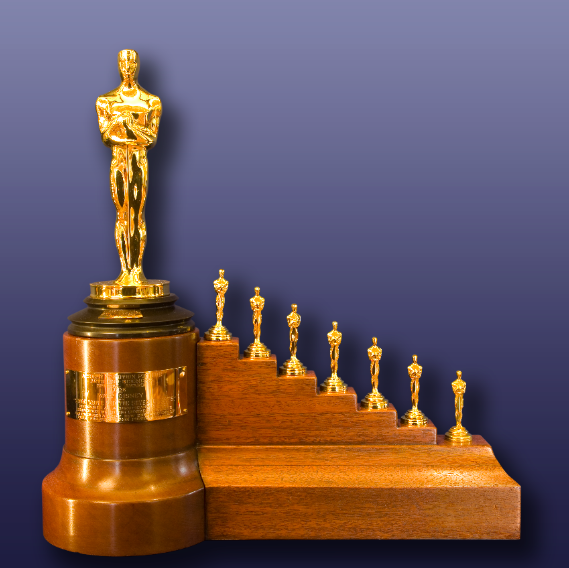 © Disney / Via waltdisney.org
39. Snow White (14 years old) and Jasmine (15 years old) are the youngest Disney princesses.
40. Eve from Disney's Wall-E was partly designed by Apple's head designer.
41. Joss Whedon helped the Disney team to rework early drafts of Toy Story.
42. Walt Disney was the first person to voice Mickey Mouse.
43. When Nani signs Lilo and Stitch's adoption papers, you'll see a note that thanks the various animation studios for their work.

© Disney
44. Professional skateboarder Tony Hawk inspired Tarzan's directors who modelled the character's movements as he swings through the trees on the skateboarder.
45. Walt Disney died whilst The Jungle Book was still in production.
46. 270 pieces of real food were made for references in Ratatouille - all were eaten!
47. In The Lion King, computers replicated the hand-drawn wildebeest for the stampede scene where Mufasa dies. The sequence took a whole two years to complete.
48. Pirates of the Caribbean, Tower of Terror, The Haunted Mansion, and Tomorrowland are all Disney movies based on Disneyland rides.
49. Andy in Toy Story 3 has a postcard addressed to Carl and Ellie from Up in his room.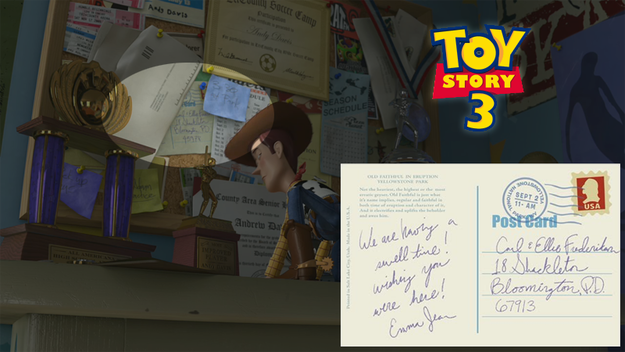 © Disney / Via educ.dab.uts.edu.au
50. In Monster Inc. Boo's real name is Mary, as seen in one of her drawings that sits in her room.
51. Pinocchio's 'When You Wish Upon A Star' was the first Disney song to win an Academy Award for Best Original Song.
52. The house in Up has 10,286 balloons, although it would take more than 25,000,000 to lift a real one.
53. A technical problem almost deleted all of the work done on Toy Story 2. Fortunately, one of the team had a full back up at her house as she worked on the film from home.
54. Chicken Little was Disney's first fully computer-animated movie.