Video: A family jumps for joy when their dog arrives home after going AWOL for 7 days
After 7 days of desperate worry, this family felt indescribable joy when their missing dog suddenly turned up!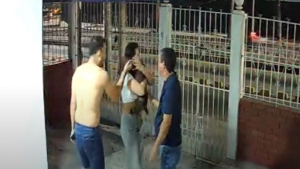 Little Brownie is a much-loved pooch. So when he mysteriously disappeared, his family went to pieces. They moved heaven and earth to find him, without success. And then one day, to the surprise of his family, he suddenly turned up. And the joyful moment was captured by their home surveillance camera!
They searched high and low
Steven Beltran and his family live in Colombia. They're dog lovers and currently have 3. But one day, one of them, Brownie, vanished into thin air. He disappeared like a puff of smoke.
His family immediately set out to find him. For 7 days, they gave it all they could. They put up posters with the dog's photos and offered a reward for his safe return. The whole episode left them physically and psychologically worn out.
"There were days of searching, days we didn't sleep, days we didn't eat," Steven told The Dodo. "All we could do was think of Brownie."
And then a week later...
While the search didn't lead to anything, Brownie clearly wanted to return home. After 7 days, he finally found his way back and the Beltrans' surveillance cameras filmed everything.
The camera is aimed at their closed gate. In the background, you can see moving traffic. Little Brownie suddenly appears and manages to squeeze through the narrow gap under the gate.
Moments later, off camera, you can hear cries of joy as the family reunites with their pet. Everyone keeps repeating the dog's name while examining the gate to figure out how the dog got back in.
It's a real celebratory moment. The family hugs each other, shouts, jumps for joy and smothers Brownie with attention. Even the other 2 dogs in the house join in with the good news. It's a moving video, and you check it out below:
"So thankful he found his way home. He was a bit tired, quite thirsty and very hungry," Steven said. "I can't imagine what he went through during those seven days when he was missing. Now we're spoiling him rotten!"

By Straker Julia
Writer
Passionate about writing, I write articles on the subjects that I love. Creativity and Animals themes are my favorites!