A sad-looking abandoned kitten can't contain its joy since it was saved
Teddy is a unique cat... He suffers from Ehlers Danlos Syndrome, which means he has a sad and old-looking face. But the moment he was taken in by a shelter, it became clear he had a lot of love to give!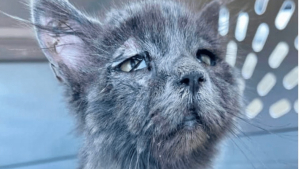 Tara Kay is the founder of the Odd Cat Sanctuary, based in Massachusetts, USA. One day, one of the volunteers told her he had found a litter of kittens. Among them was Teddy.
Teddy immediately stood out because of his odd appearance. The young kitten was diagnosed with Ehlers Danlos Syndrome, a genetic illness that affects the body's collagen production.
As a result, his skin and ligaments are very fragile, lacking in elasticity and strength. In Teddy's case, his skin droops and needs a lot of attention. Tara told Love Meow: "His skin is very thin and can easily tear. He needs a lot of special care."
But she didn't think twice about helping him.
Lots of pampering
Teddy is now being treated for his condition. The quality of his skin is improving and getting stronger. This lovely 5-month-old kitten also showed off his purr as soon as he arrived at the shelter: "He purred all the time. He cuddled up, rolled over, so he could get tummy tickles and just loved being around people," Tara continued.
Despite his vulnerability and illness, Teddy, like all cats, loves to play and constantly seeks attention. He's also in an environment where he won't get hurt.
This gray cat really is the sweetest thing. It takes little to make him happy: the mere presence of a human in the room sets off his huge purr!
Forever home
Teddy joined a foster home in October 2021. And he was pampered day and night! A month later, his foster mom announced that he had gone to join his forever family.
She'd become really attached to Teddy, but was unable to keep him. She hasn't had news of him recently, but knows he's in a loving home.
In tribute to Teddy and other EDS cats, she runs the teddy_eds.cat Instagram account, where she shares information about feline Ehlers Danlos Syndrome.

By Straker Julia
Writer
Passionate about writing, I write articles on the subjects that I love. Creativity and Animals themes are my favorites!