Jules, an elderly deaf Golden Retriever finds a happy new home after ending up at a shelter
Jules had to leave his old home and stay at a shelter, but it wasn't long before he returned to family life. Despite his age, this dog was still bounding with energy and full of love, ready to start a new chapter in his life.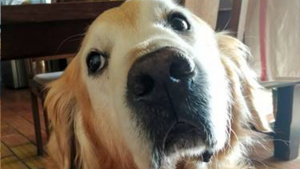 Older dogs living in shelters generally have a harder time finding a family than their younger counterparts. Fortunately, this was not the case for Jules, whose time in the shelter didn't last long. His charm and help from the French charity, Fondation 30 Millions d'Amis meant he met a loving family pretty quickly.
Despite being deaf and 13 years old, this adorable Golden Retriever is in great shape. And he's now enjoying life with Marie and Loïc, and more recently their newborn daughter Lucile.

Marie / Fondation 30 Millions d'Amis
Jules previously had a loving family, but sadly his owner was unable to keep him. He took the dog to the Gerbey shelter in Chonas-l'Amballan, Isère, France.
Shortly after his arrival, potential adopters began to come forward. The popularity of his race and his playful personality meant his age didn't bother anyone. 'Opération Doyen' run by Fondation 30 Millions d'Amis was also instrumental in speeding up Jules's adoption. This initiative helps dogs aged 10 and over to find families, in particular by reimbursing veterinary expenses to the tune of 600 euros.
In the end, Marie and her husband Loïc were selected. Jules moved into his new home in September 2021 and quickly settled in. As soon as he arrived, he "found where his sofa was," says his owner.
An endearing personality
The couple quickly saw how much joy he would bring to them. He does so by cuddling up – "a real pot of glue", says Marie – and by his affectionate behavior, his playful side and even a puppy attitude that comes out from time to time. Jules is, indeed, a canine with a huge personality, from being a bit impatient at times to being very playful.

Marie / Fondation 30 Millions d'Amis
Jules has made a special place for himself within this family, which has grown with the arrival of little Lucile.
His story proves that senior dogs deserve as much a chance as much as younger dogs.

By Straker Julia
Writer
Passionate about writing, I write articles on the subjects that I love. Creativity and Animals themes are my favorites!