18 tattoos that beautifully illustrate the expertise of each artist
Getting inked allows us to express a certain creativity, but what about tattoo artists? Their designs and skills speak for themselves!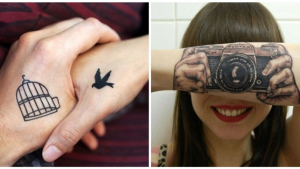 A tattoo is usually symbolic or bears a message, but it's also an art that shows off the artist's creative flair. Professional tattoo artists have the talent to produce the most incredible tattoos, whether the idea comes from them or their clients.
Here are 18 photos of tattoos that are nothing short of breathtaking!
1. When you're a budding photographer
© Support Tattoos + Piercings at Work/Wikimedia Commons, © CC-BY-SA-2.0
2. Sibling bond
3. Both a mountain and a wolf
4. We love this interpretation of their kid's drawing
5. From top to toe
6. Eternal love
7. Planetary alignment on the day they were born
8. From when her bird strolled across some clay
9. The symmetry is awesome
10. A hidden mermaid
11. They wanted this for years
12. A scene from their favorite movie
13. Magic mushrooms?
14. A voicemail left by his daughter
15. The transformation of a scar
16. Because he often loses his ruler at work!
17. Extra-terrestrial message
18. Who doesn't love this game?

By Straker Julia
Writer
Passionate about writing, I write articles on the subjects that I love. Creativity and Animals themes are my favorites!