19 people who have a vivid imagination
The craziest inventions are sometimes the funniest.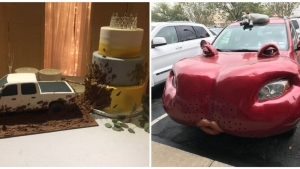 To break up the monotony of life, some people don't hesitate to spice things up a little bit. Whether it's personalizing their car or their hairstyle, it's good to make any type of modification.
Here are 19 photos of people who are not lacking in creativity.
1. An upside-down car

2. A necklace that pays tribute to Van Gogh and his famous severed ear

3. A kitchen floor that makes you feel like you're in nature.

4. Rainbow highlights add color to your life
5. An outdoor chimney in honor of Minions

6. People who personalize their car show a lot of creativity and have no limits to having the vehicle that suits them.

7. Slippers that look like the two dogs she loves so much
8. For their wedding, they decided to get a cake that was anything but traditional.

9. He ordered a cappuccino and the waiter gave him this pretty foam cockroach.

10. She made a dress that lets everyone know how much she loves books!
11. A chair in the shape of a scorpion for anyone brave enough to sit in it

© Vyacheslav Pakhomov / Facebook
12. A car customized to look like something out of Indiana Jones

13. A building that is not for the faint of heart

14. To amuse her guests, she made burgers like in "SpongeBob SquarePants."

15. When we can't make a choice, we combine them all into one!

16. An alien mask for this guy

17. So you won't confuse your suitcase with someone else's…

18. Great contemporary art

19. Doing your nails with only fingernail polish is so boring.

By Straker Julia
Writer
Passionate about writing, I write articles on the subjects that I love. Creativity and Animals themes are my favorites!