20 photos that are a sheer pleasure to behold
You don't need to be a perfectionist to appreciate order and symmetry. The calming effect can do us all a world of good.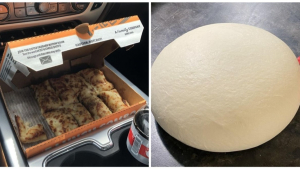 Some people can't bear it if something's off-center or an imperfect shape. Others don't care, but will still grab their smartphone if they see an incredible flower or pizza dough in the shape of a perfect circle.
Whatever you feel, we guarantee these 20 photos will add some calm to life's chaos!
1. When head and tail meet
© Wikkelsoee / Reddit
2. A natural wonder
3. Freezer art
4. Imagine seeing this for real
5. A pedestrian finally corrected it
6. We bet the finished pizza was delicious too
7. Cherry blossom covers a schoolyard
8. Every car should have this
9. When your glasses and diving mask are a perfect fit
10. Now it just needs decorating
11. Ripeness to please everyone
© sparkleplentylikegma / Reddit
12. The ultimate roasted marshmallow
13. Perfect shape, perfect fit
14. A dollop of paint
15. A flower that embodies Hawaii
16. Who wouldn't dig their spoon into this?
17. When your weight matches the packaging
18. Rainbow library
© JenellesNextHusband / Reddit
19. When melting snow does this
20. This time, even the colours align!

By Straker Julia
Writer
Passionate about writing, I write articles on the subjects that I love. Creativity and Animals themes are my favorites!