20 photos that define the term "perfect fit"
Isn't it great when objects fit perfectly into a storage place? And these photos show just how satisfying this can be.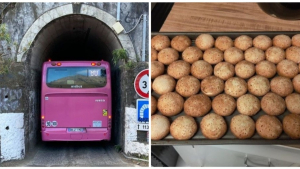 Whether we're tidying up household objects, packing furniture into a removals van or putting our groceries in the fridge, it can sometimes be a trial to get everything in the right place. So when we manage to create order out of chaos, it can be surprisingly satisfying!
Here are 20 photos that illustrate a perfect fit.
1. Tight squeeze!
2. The beauty of ribbons
3. An experienced baker!
4. It's as if this tunnel was built for this bus
5. Just the right size
6. One tidy larder
7. No excuse for an untidy office
8. Cleaning can be a pleasure
9. When your car has the perfect slot
10. Plus no excess packaging!
11. A human locker?
12. Delicious!
13. Cheese and bread that were made for each other
14. IT heaven
15. Seems a shame to eat it!
16. His and hers wedding rings
17. There's a method to this
18. This is why they stick to the same brand
19. Construction perfection
20. The reason why it's worth paying a pro

By Straker Julia
Writer
Passionate about writing, I write articles on the subjects that I love. Creativity and Animals themes are my favorites!