20 photos that will make you do a double-take
Some photos can really mess with our brains, just like this confusing selection.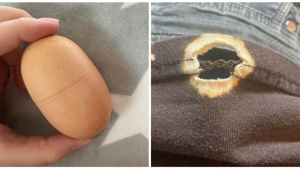 Optical illusions are always fun. They're like little magic tricks that can take a while to figure out. And they're even funnier when we see other people questioning what's before their eyes!
Here are 20 particularly confusing photos for you to figure out.
1. Is it moving?
2. The way they fit together
3. A real facade or a movie set?
4. Accessible from both the shower and the washbasin?
5. Having breakfast with her twin
6. Incredible natural phenomenon
7. When an egg looks just like a famous candy
8. This one took us a while
9. When your dentist loves LEGO
10. Dark Vader seen lurking in a bathroom
11. This New Mexico sky
12. Peeling paint becomes a cityscape
13. A perfect dome
14. Bleach that left the seam behind
15. This happens every day during snowy weather
16. A lonely little cloud
17. How to spot the edge of a rain cloud
18. Incredible symmetry
19. A photo or a collage?
20. Invading cloud

By Straker Julia
Writer
Passionate about writing, I write articles on the subjects that I love. Creativity and Animals themes are my favorites!