20 photos of tiny yet beautifully-presented apartments
Lots of people live in tiny apartments or houses, but know how to make the most of their limited space.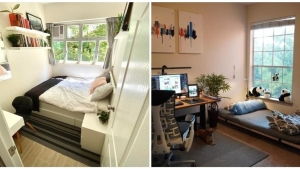 Even a small living area can be turned into a dreamy peaceful haven. It's all about choosing the right furniture, layout and decorations.
Here are 20 photos of small, but very cleverly-furnished rooms!
1. There's even room for a big cat tree!

2. They turned the closet into a romantic bed

3. A bed under the window to increase the sense of space and benefit from more light

© mojo_filter / reddit © deleted / reddit
4. Tiny and lovely!

5. He'd been living in his car, but managed to find a cosy little apartment

© AwakeAsleepAliveDead / reddit
6. Adding plants can dramatically change a room

7. The day they moved in vs a few months' later

8. Turn a tiny room into a comfy reading area

9. The blend of green and white really opens up the room

© plefave13 / reddit © RULESbySPEAR / reddit
10. Upcycling old objects adds character and style

11. Another green & white combo

12. Bright colors for a fairytale feel

13. This is the basement!

14. Elegant and airy

15. Black walls don't necessarily make a room feel smaller!

16. A Turkish crochet wall hanging to make all the difference

© toki_goes_to_jupiter / reddit
17. A few small changes can make a huge difference

18. It's small, but gorgeously decorated

19. Who said tiny bedrooms aren't cool?

20. The use of white doubles the size of this room


By Straker Julia
Writer
Passionate about writing, I write articles on the subjects that I love. Creativity and Animals themes are my favorites!