A blind dog befriended a cat that now that guides him every day (video)
This has to be the cutest story of the day! People often say cats and dogs don't get along, but the tender, loving bond between Blaze proves them all wrong. And this blind dog now has a little friend for life to help him on his way.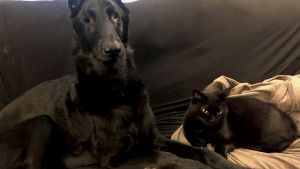 Robin Wagner was totally bowled over when she witnessed the relationship that developed between Blaze, her English Greyhound/German Shepherd mix, and her cat, Satin. The NYPost tells how the presence of this feline has transformed the pooch's daily life.
Blaze didn't have the best start to life
This poor dog was born blind in one eye, and over time he became blind in both eyes.
A sad fate that greatly affected him, recalls his owner. " He became very anxious. We had to do a lot of work with trainers to help him gain his confidence back."
It was then that his feline guardian angel took control of the situation
What really helped the adorable Blaze was the presence of little Satin. This black cat got trod on more than once, but she never held a grudge!
The wise feline took advantage of Blaze's problem to try to teach him new things. By helpfully meowing, she managed to guide him around, so he would avoid bumping into things or treading on her.
These two pets have developed a level of trust that has made them even closer than ever. Satin also loves rubbing up against her friend in the same way she would do it to a table leg or chair!
Robin is sure of one thing: her cat deeply loves her friend Blaze, and she does him the world of good. Just check out the video above, which they posted on TikTok.

By Straker Julia
Writer
Passionate about writing, I write articles on the subjects that I love. Creativity and Animals themes are my favorites!