A dog owner who stopped work and decided to draw up a bucket list of adventures to enjoy with her terminally ill dog
Megan Marshall has had Sasha, her lovely female Labrador cross, for 16 years. Sasha now has numerous health problems, which according to veterinarians will eventually paralyze her. So her owner decided to make the most of her faithful companion's twilight years.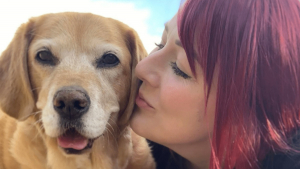 Megan herself has had a lot to deal with over the years. At the age of 31, after certain symptoms worsened, she was diagnosed with Autism Spectrum Disorder.
She decided to close her dog walking business, as it was too much for her to manage. But this important decision is also fuelled by something else: Sasha.
Sasha has been by Megan's side since 2006. As reported in the newspaper, Metro, the Labrador / Golden Retriever cross, has numerous health issues including benign tumors, dementia, arthritis and pancreatitis.
But a recent diagnosis brought even more bad news - Sasha now has a degenerative disease that experts say will leave her paralyzed.
A long bucket list
Megan has always been grateful for Sasha's companionship during difficult times: "Even though she has always had her own health battles, including a degenerative disease that affects her hind legs, Sasha has always been my rock through my own ups and downs." While they are both unwell, they draw strength from each other.
And then one day the 31-year-old year-old had an idea, particularly as she suddenly had more time on her hands. She decided to create a bucket list of things to do with her dog.
"It's me and Sasha against the world, so I just felt like I wanted to give her back what she gave me while I have the chance," she said.
Megan wants to enjoy every moment she has left with Sasha, whose condition continues to deteriorate. "I have no idea how much time I have left with Sasha. I really can't imagine my life without her. She's my reason for being [...] Knowing that we have done these things together will certainly help to make the bad days a little easier, "she says.
And there's quite a lot on her list! Between sleepovers with canine friends, ice cream tasting, meeting with the local firefighters and even visiting historic monuments, there's certainly no time to get bored!
Recently, the pooch enjoyed their first day at the beach in Cornwall (United Kingdom).
Sasha and Megan have managed to pack in even more than she planned. "Six months later, we'd done some amazing things together. Things I never imagined we could have done and if I'm honest, I didn't think she would still be with us, but she is, "wrote Megan in June.
This was because Sasha had a relapse late last year and wasn't expected to live until Christmas 2021. The great news is her health is more stable, largely thanks to balneotherapy sessions and the care she gets from her much-loved owner.
Megan can now add more activities to their bucket list! In the meantime, the inseparable pair continue to enjoy their adventures and unforgettable times.

By Straker Julia
Writer
Passionate about writing, I write articles on the subjects that I love. Creativity and Animals themes are my favorites!