A woman moved into her new house and discovered that the former occupants had left their 2 cats behind
When this woman moved into her new house, the ad forgot to mention the previous occupant's 2 cats were part of the deal…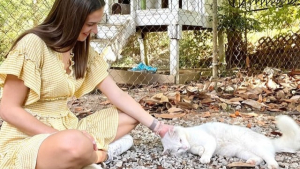 24-year-old Julia Davis has just moved into her new home. This American TikToker has an impressive 674,000 subscribers. This community proved to be a great help when she discovered that the former occupant of her home had left their 2 cats behind.
Julia first found Cooper who was in a shed at the bottom of her yard
As soon as she arrived in her new house, Julia spotted a gorgeous white cat in a shed at the bottom of her yard. He was very friendly and enjoyed being petted. However, it quickly became clear he was very neglected. His fur was matted, and he had several cuts on his ears.
Julia asked her neighbors if they knew the cat, and discovered he wasn't a stray, even though he was very independent. It turned out he belonged to the previous occupant, who had left him behind when they moved.
A second cat showed up
Shortly afterwards, Julia found another cat, this time a black one. Just like the white one, it belonged to the former occupant. Julia was shocked by this level of neglect and decided to adopt and care for the 2 cats. However, she already had a dog and cat, and needed financial assistance to care for and treat two new ones.
So the young woman approached her TikTok followers, who proved to be incredibly generous. In total, she received more than $9,000 euros, which allowed her to treat and look after the 2 abandoned cats. She named them Cooper and Rufus, and today they are happily settled in ulia 's house with her two other four-legged friends.
"I like to say that these cats belong to all of us. Everyone who watches my videos has helped with their care. It was a massive group effort that restored my faith in humanity," says Julia, whose story was reported by Demotivateur.

By Straker Julia
Writer
Passionate about writing, I write articles on the subjects that I love. Creativity and Animals themes are my favorites!