An 11-year-old volunteer who spends his spare time reading stories to shelter dogs and helping them find their forever homes.
According to Evan Bisnauth, you are "never too young to make a big difference."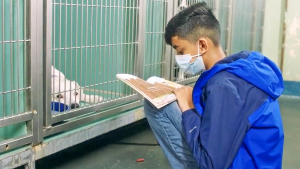 Evan Bisnauth is an 11-year-old volunteer who is bursting with ideas and dedicated to improving the lives of shelter dogs. He devotes his free time to reading to the dogs and using social media to find them loving forever homes. The story of this big-hearted boy featured in Daily Paws.
Evan first learnt to read with his own dog
When Evan was little, he practiced reading out loud by telling stories to his dog. A few years later, his mother found an abandoned dog and took it to a shelter in New York. While she was there, she found out about a project that allowed kids to visit and read books to shelter animals.
This project had several goals - to empower children and help them to read aloud, give the shelter dogs some company and get them used to kids.
Evan immediately agreed to take part in this initiative. He particularly liked reading Belly Rubbins for Bubbins , which was about the adoption of a shelter dog.
"Sometimes [the dogs] fall asleep on their backs with their legs in the air. That's when I know they're really happy and relaxed," explains the young boy.
When the city went into lockdown, Evan found another way to help
Lockdown meant, Evan couldn't go to the shelter and read to the dogs. So he decided to help them remotely. And what better plan than getting the dogs adopted?
Evan began to produce social media content to highlight the plight of the shelter dogs. For example, he made videos where he interviewed dogs up for adoption and described their personality and needs.
Since the end of the pandemic, Evan has resumed his reading sessions, but also continues his plan to find his little protégés forever homes. An awesome endeavor that earned this hero the 2021 Child of the Year Award from the ASPCA.

By Straker Julia
Writer
Passionate about writing, I write articles on the subjects that I love. Creativity and Animals themes are my favorites!