An anxious dog turned into a kleptomaniac and began to steal its owner's pillow every day (video)
Lots of dog owners are forced to hide their belongings to avoid them being destroyed. From clothes to shoes, our furry friends sure like to grab things that are not theirs. Yet, these behaviors, when repetitive, can reveal disorders.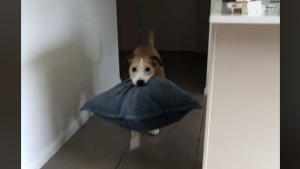 Amos lives with Melissa Pearce in Brisbane (Australia). He is an 8-year-old Catahoula Leopard and Beagle mix, and has nearly 73,000 followers on Instagram and 563,000 on TikTok.
His popularity is down to one particular reason: he's a kleptomaniac.
His owner has filmed and posted numerous videos, usually when he's caught red-handed stealing his favorite object... A pillow! The Dodo shared some of videos:
In this hilarious compilation, Amos appears with a pillow in his mouth, which he then takes outside. He does this every day. Melissa writes, "Amos has always been a thief. The list of things he stole is so long that I can't even bother to write it down. "
Even though the videos will make you smile, there is a more serious reason for this behavior: Amos suffers from terrible anxiety. For him, grabbing a pillow is reassuring.
His stress is all the more visible when he has to walk down the hallway, which for some reason terrifies him. His owner continues, "The pillow snatching only started when he suddenly became scared of the hallway". She says the pillows are emotional support for him.
Thanks to perseverance and exercises, this fearful pooch is calming down and becoming more confident! He also attends sessions with a dog trainer, who's helping him overcome his fears.

By Straker Julia
Writer
Passionate about writing, I write articles on the subjects that I love. Creativity and Animals themes are my favorites!