An elderly Rottweiler used for dog training classes was about to have her life transformed
A simple encounter can lead to amazing results. When Sandrine took part in a dog training course, she never imagined she'd find her four-legged soul mate.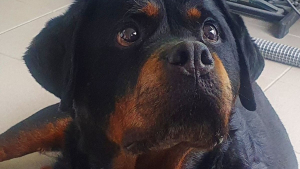 Eden was 10 years old. She was an impressive female Rottweiler who weighed almost 90lbs. The only life she knew was the kennel where she was born. Every year, she'd spend a few months at a dog training program helping future dog trainers learn their skills. And it was during one session that she found her forever home.
Sandrine Pubert wanted to become a dog trainer. So, in 2019, she went to a dog training center in Nouvelle-Aquitaine in France where she met Eden. She told Woopets, "Between sessions, the dog would just sit or lie in her kennel. Despite her size, I found she had a really gentle look about her."
She quickly became attached to the dog, and when her training ended, she realized that something was wrong with Eden: "At the end of the training, she appeared unwell and it worried me. A few days later, an abscess in her thigh appeared." This health problem was the decisive factor for Sandrine. She decided it was time to change this old dog's fate.
"She helped my husband and me so much during the training course."
Accompanied by her husband, Sandrine took the necessary steps to adopt Eden. The kennel farmer agreed to give her the dog, who quickly settled into her new home. It was the happiest of endings for a dog that had never lived in a loving home: "From that day on, Eden never left me, she was always at my side. I felt that I had become very important to her," her new owner explains.
Even better, the Rottweiler now had 2 other four-legged friends to help her settle in. Eden loved her new life, from forest walks to playing on the beach.
Sandrine Couchepasbouge / Facebook
Unfortunately, she began to have health problems. She had lots of checkups at the veterinarians, which sadly showed a tumor in one of her kidneys. One day, two years after her adoption, Eden collapsed and passed over the rainbow bridge.
Sandrine said she had never "felt such a void" before. The two had a real bond that she will never forget.
Since this painful ordeal, the family has slowly gotten over their loss, largely thanks to Keko, a puppy they adopted last July. But they will never forget the wonderful Eden.

By Straker Julia
Writer
Passionate about writing, I write articles on the subjects that I love. Creativity and Animals themes are my favorites!