As the only survivor of a litter after a wild animal attack, a tiny Siamese kitten pulls through and becomes an awesome cat
Three kittens were found badly injured by a wild animal. Only one survived. He battled to stay alive and grew up to be a very handsome Siamese cat.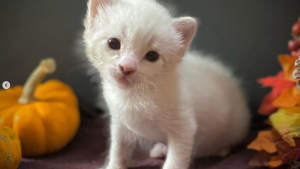 Mendel was found in a woman's garden, along with two other kittens. Their mother wasn't to be seen, and these tiny kittens had been attacked and bitten by a wild animal. "A panicked woman knocked on the door asking for help," explains Kara Yancey of Sun Cities 4 Paws shelter to Love Meow. "I ran out to the parking lot to find she had three little kittens wrapped up. They were badly injured." It was very early, and the shelter was closed, but given the urgency of the situation, Kara immediately intervened.
2 of the kittens were fatally wounded
The three kittens were treated for their fleas and wounds. They were placed in an incubator to raise their dangerously low body temperatures and were bottle-fed 24 hours a day. Unfortunately, despite all this care, two of them died from their injuries, leaving Mendel as the only survivor of the litter.
Mendel clung to life
Mendel, too, had been wounded. He had been bitten on his hind legs. But that didn't stop him from fighting like a warrior and clinging to life. He began to gain weight, and systematically asked to be fed. "Every few hours, my alarm sounded, and I'd see this curious little face in the incubator window looking at me as if to say, 'Where is my bottle?'", continues Kara.
When Mendel reached the age when he could join the other felines, he struggled to play with them. His leg injuries prevented him from moving around properly. But Mendel battled against the odds until he was able to run and jump like the others.
Markings began to appear on Mendel's coat
As he grew up, Siamese markings began to appear on Mendel's white coat. "He turned into a beautiful Siamese cat and left his foster family to join the "big kittens" room in the shelter, where he was promptly adopted by a wonderful couple," says Kara.
Today, Mendel is very happily settled with his new family, to whom he brings just as much joy.

By Straker Julia
Writer
Passionate about writing, I write articles on the subjects that I love. Creativity and Animals themes are my favorites!