Check out an incredibly bright Cocker Spaniel that can master hopscotch as well as any of us! (video)
Leo, a 3-year-old English Cocker Spaniel, is the pride and joy of his owner and for good reason too: this little guy is super-intelligent! He quickly learns the most complicated tasks and is now a dab hand (or should it be "paw"?) at hopscotch.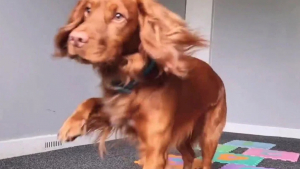 Leo is a dog that would have a blast in any playground!
The dog lives in Aberdeen, Scotland with his owner Emily Anderson, Metro reports. They have an incredibly close bond, all the more so since the pooch nearly lost its life in 2020 due to a parasite.
Following this terrible ordeal, Emily began to teach her friend tricks, and the red-coated Cocker Spaniel seemed to be particularly gifted. He can play tennis, paint and play music. He can even perform CPR! You can follow his feats on TikTok and Instagram, where the popular canine has 28,000 and 20,000 subscribers respectively!
A new challenge
One day, Emily was wandering around a store looking for new trick ideas for her dog when she noticed a hopscotch rug. She decided this could be a cool new game for Leo to try.
Slowly but surely the thirty-year-old taught her furry prodigy how to navigate the squares. To begin with, he managed 6 squares.
As his owner says, "It was the longest it's ever taken me to anything. It was a couple of months. It's definitely the most difficult one I've done with him." But her patience paid off, as seen in a video posted on April 23rd, where Leo finishes all 10 squares with incredible ease! Here's the amazing video:
This is an awesome feat, and to date, he's the only dog on social media who has managed this sequence: "This is one most dogs can't master because it's really hard. I have searched and I haven't seen another dog do it the way Leo does it [...] I think an Australian Shepherd does four [numbers], so only half of what Leo does," continues Emily.
When she bought the game, she had no idea that her dog would reach the highest number. "It was a set of 10-numbers mat. I never thought we'd get to 10 - I just planned to get to five or six because we were struggling for so long." But she underestimated this little genius.
She adds that in addition to this remarkable success, Leo now completes his hopscotch on his own and without help, unlike other dogs.
An effective training technique
Emily uses the clicker method to teach her Cocker Spaniel new tricks. It's a training device that emits a click when pressed.
It can be used to signal a good deed, which is then rewarded with a treat. "It's all done by clicker training. When he hears the click, it puts an end to the behavior and he then gets the reward," Emily explains to numerous netizens who ask her for tips.
Emily and Leo can be proud of their success, which has already had 300,000 views! If one thing's for sure, this duo will continue to take on challenges together!

By Straker Julia
Writer
Passionate about writing, I write articles on the subjects that I love. Creativity and Animals themes are my favorites!