Intrigued by her cat's sudden weird behavior, a woman later learns he was trying to warn her about something very serious indeed...
Kate didn't understand why her senior cat Oggy suddenly wanted to snuggle up against her chest. It was only a few months later, when she went to the doctor, that she realized that the animal had picked up on a serious illness that was lurking in her body.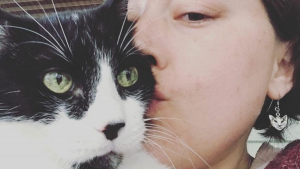 Oggy is a lovely black and white cat, adopted from a shelter by Kate King-Scribbins and her husband. The couple live in Minnesota with another cat, a Maine Coon named Lulu, and a female Labrador Retriever cross called Abby. They also used to have a dog named Max, but he had recently passed away.
Kate King-Scribbins' 3 pets are seniors, and Oggy is the oldest. He was 15 years old when he realized that his owner was seriously ill, even though she had no idea, reports Bored Panda.
Oggy had always been very cuddly, but he suddenly became really clingy and would cuddle up against the left side of his owner's chest while purring away. Every time she tried to move the feline, he would go straight back to that particular part of her body. This weird behavior continued for months.
One morning, she was awakened by a terrible pain. As she works in the medical field, she quickly checked the area and suddenly felt a lump on her left breast. It was right where Oggy would snuggle. She went to the doctor, and the diagnosis was Stage 3 breast cancer.
Kate King-Scribbins underwent extensive treatment including chemotherapy, surgery and radiotherapy. A difficult period during which the comfort of having her pets was invaluable. Their presence also helped her fight against her illness. She couldn't bear the thought of leaving them behind.
Oggy only stopped after her surgery
Oggy continued to snuggle by her chest during her chemotherapy. He didn't stop doing it until after her surgery.
Kate King-Scribbins finally beat her cancer. A few years on, and she's leading a happy life with her husband and their four-legged companions.
She will never be able to thank Oggy enough for his loyalty, comfort and relentless attempts to draw her attention to cancer that was growing inside her.

By Straker Julia
Writer
Passionate about writing, I write articles on the subjects that I love. Creativity and Animals themes are my favorites!