The moving first encounter between a little boy and a dog (video)
Cuteness alert! This baby boy had never seen a dog in his life, but when he did for the first time, it was the most tender of moments. And the video has now been seen by millions of TikTok users.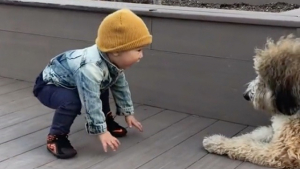 How children marvel at the little things in life often makes our hearts melt. One of these lovely moments was recently published on a social network, and it has touched everyone who saw it, reports Newsweek.
A moving encounter
The scene in question shows a 14-month-old boy, who sees a gorgeous, fluffy dog on a leash for the first time. Witnesses and netizens have all been blown away by how adorable it was.
In any case, the excitement of the young child is indisputable! By clapping his hands and then his feet on the floor, he shows us that he thinks it's awesome.
He gets down to the dog's level, lying on the ground, but he moves away a bit when the Bernedoodle touches his nose with his nose.
A gentle dog
It's clear that Duke the dog is also intrigued by the little human in front of him. He wags his tail and smiles back.
The video was viewed by more than a million TikTok users and got almost 1,500 comments. Duke's owner, Mollie, took the opportunity to say it was her dog.
He was commended for his sweet reaction to the young child. "Give him a treat from me!" commented one person.

By Straker Julia
Writer
Passionate about writing, I write articles on the subjects that I love. Creativity and Animals themes are my favorites!