The only survivor of a litter, a little kitten finds comfort with a loving female dog (video)
Mrs Norris is a force to contend with, despite the difficult start she had in life. Meeting a female dog named Ava allowed her to grow up in a tender, loving environment.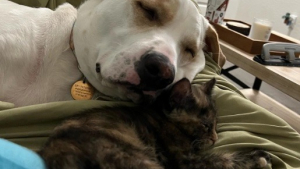 A tiny kitten later named Mrs Norris was found alone in Arizona, USA. Her terrified meowing echoed around the garden of a resident, who fed her through the night before entrusting her to Jin's Bottle Babies Rescue, a shelter in the city of Surprise.
The tiny feline was a real fighter
It was Shelbi Uyehara who took her in, and, as she explains to Love Meow, she was impressed with the little furry fighter in her care.
"She was only a day or so old, and yet she was already suckling, and purring like a champion," she recalls. Sadly, the young feline was weakened by the absence of breast milk, and came down with an infection and various intestinal problems.
But that wasn't going to stop this little warrior. Mrs Norris was a determined little kitten and, thanks to the care and love she received, she pulled through.
This meant she could join the other animals in her foster home, including a dog named Ava. And their friendship stood out from the others, as they became incredibly attached to each other.
Love at first sight
Ava always mothered the kittens in the house by licking them, but the bond she had with Mrs Norris was much stronger than with the other felines.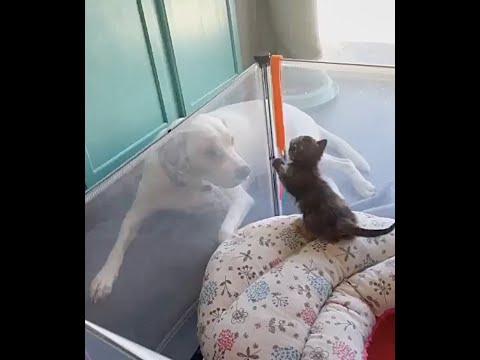 And Mrs Norris loved her back. The young kitten would seek attention from the dog whenever she could and in return, Ava seemed to treat her like one of her own.
And this bond is no doubt why Mrs Norris has become the wonderful, thriving cat that she is today. She left the shelter once she was weaned, but we're sure she'll always remember Ava's love for the rest of her life.

By Straker Julia
Writer
Passionate about writing, I write articles on the subjects that I love. Creativity and Animals themes are my favorites!