This Border Terrier had life-saving surgery, even if it means he will never look the same
At the end of 2021, Yogi's owner discovered he had a malignant tumor. He had mouth cancer, and it had spread across his muzzle. The vets had no choice but to cut the tumor out.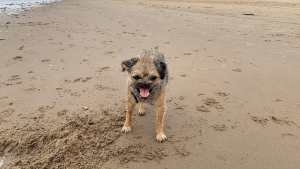 Anna Gaughan is Yogi's owner. Last year, a worrying lump began to grow on the 11-year-old Border Terrier's face. Anna knew it needed checking out. She is also a veterinarian, so immediately realized something was very wrong with her dog.
As she said to Metro: "I sent Yogi's initial reports to specialist veterinarians, and they confirmed that Yogi had a very rare and aggressive type of mouth cancer."
A more precise diagnosis followed. The dog was suffering from fibrosarcoma of the upper jaw, and it had reached an advanced stage. His condition rapidly deteriorated. A veterinary dentist explained that "Yogi's tumor was large and had spread into his upper jaw. Tomography imaging then revealed it had also invaded the tissue around his nose."
A ray of hope
Faced with the tumor's rapid growth and spread, the specialists said there was some hope left in order to save Yogi: "We knew that the only way to remove the cancer was to resect all the affected tissues, including the nose," explained the dentist.
Anna agreed to the operation, which consisted of removing Yogi's muzzle.
When the little dog woke up at the Eastcott Veterinary Referrals clinic in Swindon, England, he was very frail and his face had, obviously, been radically altered. It was also hard for his owner to witness.
Anna Gaughan - Eastcott Veterinary Referrals / Facebook
However, after a few weeks, the dog fully recovered and was soon back to his happy, playful self! The operation had been a success. Yogi no longer has any traces of cancer in his body, and his recovery went smoothly. He regained all his energy now that his body wasn't battling cancer.
Anna Gaughan - Eastcott Veterinary Referrals / Facebook
And his odd appearance didn't matter, Anna was just delighted that her faithful companion was back to his old, energetic self. Owner and pet can now look forward to a fun-filled future!

By Straker Julia
Writer
Passionate about writing, I write articles on the subjects that I love. Creativity and Animals themes are my favorites!