This shelter held a party for a dog to celebrate a year of being cancer-free!
A year after going into remission from cancer is certainly something to celebrate! Phoenix had a great day and some fun surprises for his first year of being cancer-free.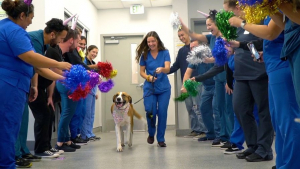 Phoenix's name suits him well. After falling ill with serious cancer and enduring numerous chemotherapy sessions, he went into remission. And just like a phoenix, he rose from the ashes. In April, he celebrated a year of being cancer-free. An important milestone.
In November 2020, Phoenix was a sick, stray
Phoenix is a Saint Bernard and Collie mix. He was found wandering the streets in November 2020. He was covered in fleas, hungry, and had lost lots of fur. But when the vets went through their tests, they realized this was nothing compared to an invisible enemy that was eating away at the dog. He had a cancer called a transmissible venereal tumor. It is a serious disease that affects the genitals of dogs and is transmitted in particular during mating or licking.
Phoenix underwent numerous chemotherapy sessions
Fortunately, it wasn't too late, and the cancer was treated by numerous chemotherapy sessions, as reported by People. Phoenix, then only 4 years old, had 13 treatments, which reduced the size of the tumors, but did not make them disappear. A veterinarian then used his vacation time to take the dog to two specialist sessions, where he had some electrochemotherapy for free.
Thanks to all this care, the dog went into remission from his cancer and was then adopted by one of the veterinary assistants at his shelter, the San Diego Humane Society, in the United States.
A year after going into remission, Phoenix went to a pawsome party at his former shelter
To celebrate his first year without cancer, Phoenix had a pawsome party in his honor. The shelter party was organized by the medical team who took care of him. They all lined up and Phoenix proudly enjoyed his little parade.
He was able to feast on a peanut butter cake specially made for dogs. He got all the cuddles a dog could ever want. A celebration that this Saint Bernard won't forget in a hurry!

By Straker Julia
Writer
Passionate about writing, I write articles on the subjects that I love. Creativity and Animals themes are my favorites!