Video: Forced to let go of his dog after a stroke, this retiree was delighted to meet a German Shepard therapy dog
Sometimes life's circumstances and health problems force people to make difficult decisions. After suffering a stroke, Trevor Morris had to give away his dog when he moved into sheltered accommodation. A decision that upset him greatly.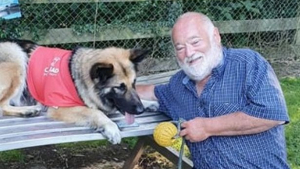 Trevor Morris was 70 when he suddenly suffered a stroke. It meant he needed to go and live in sheltered accommodation. Unable to keep his 13-year-old dog, Missy, it was with a heavy heart that he entrusted her to his daughter. But barely four months later, the female Lhasa Apso died. An even more painful experience for Trevor to endure.
Missy
© Trevor Morris
Trevor suffered greatly after giving his dog away
Missy was everything to Trevor. She was his friend and support on a daily basis. "She was with me all day, she was part of the family, she was like my child and I felt lost without her. I felt terrible when I was separated from her," Trevor told Wales Online. "I felt like I needed contact with a dog again. My daughter has dogs and I just find them very therapeutic."
Then Trevor made friends with a therapy dog
A charity called Cariad Pet Therapy came to the rescue. It's a group of volunteers with therapy dogs who visit people in need. They visit schools, nursing homes, hospitals and businesses.
Cariad Pet Therapy met Trevor and brought along a German Shepherd named Asha. The pensioner was able to enjoy a walk with his new friend.
When a pet dog is unfortunately given up to move into sheltered accommodation, we can help to provide the comfort and joy of spending time with a dog that has been lost. Here Therapy Dog Asha is spending time with Trevor, who had to give up his dog. Shared with consent. pic.twitter.com/bCcilQhIch

— Cŵn Cymorth Cariad / Cariad Pet Therapy (@CariadPet) July 14, 2021
"She was extremely friendly. It was a wonderful evening and at the end, she was running beside my mobility scooter," he said.
The therapy dog did a lot of good and Trevor is now looking forward to more sessions.

By Straker Julia
Writer
Passionate about writing, I write articles on the subjects that I love. Creativity and Animals themes are my favorites!